2023 Young Investigator Symposium
The 2023 Young Investigator Symposium took place on Saturday, April 29, 2023.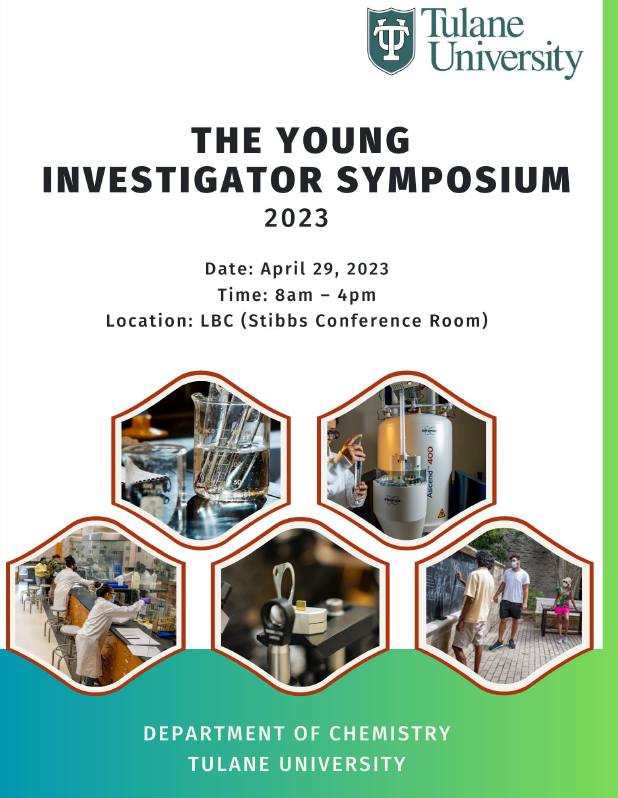 (Click image to view the full brochure and schedule of the 2023 symposium)
The Young Investigator Symposium is designed to enhance the breadth of students' knowledge by exposing them to the research of their peers.  The symposium is composed of oral and poster presentations given by chemistry graduate students.  A committee of graduate students participate in the organization of the symposium in order to gain experience participating and organizing conferences.
Prizes are awarded for the top oral presentations as determined by a committee of faculty judges.  A prize for the best poster presentation is also awarded based on votes of the attendees. 
Each year the Department of Chemistry at Tulane University invites an outstanding inorganic chemist to present the Hans B. Jonassen Lecture
Beers Of the World
Every January the Department of Chemistry honors outstanding graduate students at the "Harry Ensley Winter Awards Event"
Barbecues
The Chemistry Department comes together at the fall and spring semester barbecues. In September, the department welcomes the incoming graduate students at the fall barbecue, and in May bids farewell to their graduates at the spring barbecue.