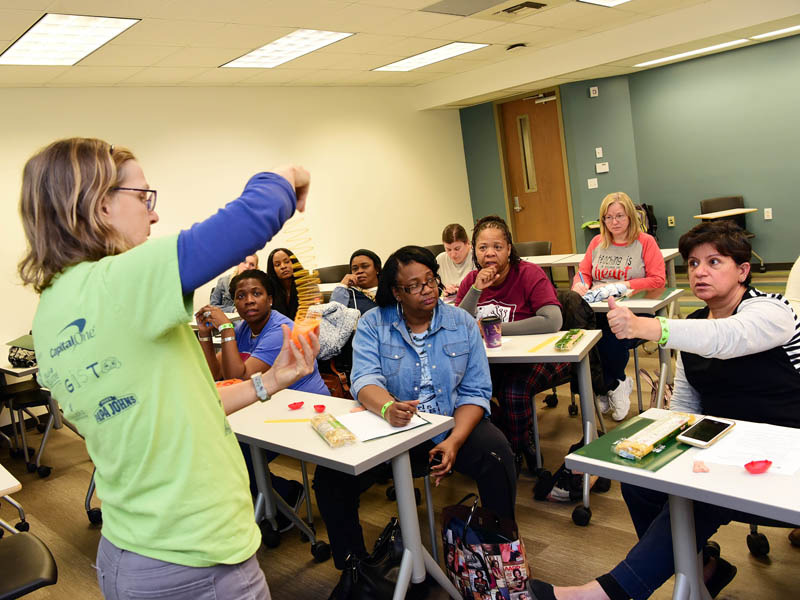 Tulane Center for K-12 STEM loves to support local teachers. Stay tuned for new ideas and fun, hands-on activities you can bring into your classroom!
Are you a 3rd-8th grade teacher? We offer professional development for teachers through our GiST/BATS workshops during the academic year.
Teacher Resources
STEM Library Lab (SLL), located in New Orleans, is offering resources for teachers working through COVID-19 and getting ready for the fall semester:
Engaging Students in LSSS-Aligned Instruction PD - SLL now offers a science methods and pedagogy PD workshop series. Available as a boot-camp or as a weekly workshop to ensure your science classroom is inquiry-based and rigorous this fall. SLL virtual options align to the CARES Act funding provisions. Taught by a certified NSTA trainer and ACE coach/evaluator, this professional development series is right for schools looking to make their science instruction more focused and robust in 2020-2021.  The first 2 sessions are "LSSS Bootcamp" and the remaining sessions are instructional practices. Offered virtually or live for small groups, sessions are tailored to your school's grade band (K-5, 6-8, or 9-12) and the curriculum you are using.  For more details, email STEM Library Lab.

Leading Virtual Science Demos Tutorial - Research shows that well-planned video demos can be an effective tool for inquiry learning. Access SLL's free workshop on how to record video demonstrations and activities for your virtual classroom, that are high rigor and standards-aligned.

Teacher Free-Store Stocked with Resources for your Virtual Classroom/Home Office - make an appointment for the Free-Store and pick up a whiteboard, chart paper, decorations, office supplies, organizers, and anything else you need for your virtual classroom. View a video walk-through or scope the inventory photos to decide what you need, and SLL will arrange curbside pickup.
BUILD is an entrepreneurship program for underserved high school students that teaches them how to build their own business while becoming the CEO of their own lives. Learn more about this program here. If you are interested in connecting with this organization to bring their program to your school or organization, fill out their School and Community Partnership Interest Form.
Based in British Columbia, Science World has several resources, activities, and workshops available for teachers on their website.
As we look ahead, the Department is focused on helping school systems to address unfinished learning from the 2019-2020 school year, to set the foundation for continuous learning in 2020-2021 and to prepare for potential modified operations in the future. This page provides information, guidance, and resources to support early childhood providers, school systems, educators, and families accomplish these goals.
---
Louisiana Art & Science Museum has launched Art & Science at Home, an online resource for educators, schoolchildren, and parents that includes art and science activities, videos, and more, organized by grade level! The hope is this resource can help educate and entertain you with at home art and science activities during this time and beyond. 
---
Any eligible K-6 teacher still interested in applying for the 2020 cycle may do so. All the teacher needs to do is begin the application and confirm eligibility by May 1. Teachers do not need to be nominated now or previously; they are allowed to begin the application process once they complete the eligibility file. More information can be found at: www.paemst.org
---
The Science Matters Network from NSTA is working to spread information to STEM teachers and their partners to become aware of professional development opportunities, science resource materials, and funding programs for their region.
These classroom resources are vetted by NSTA teacher curators, who recommend ways they can be adapted to more closely reflect the vision of Next Generation Science Standards (NGSS):
Complimentary LSTA Membership
LSTA understands how difficult these times are for science educators. LSTA wants to show they are with you by providing information about as many resources and opportunities that will help to alleviate some of the strain you may be feeling. Please fill out an online form to register for your complimentary membership to LSTA (*effective now until February 28, 2021). 
List of Grant and Award Opportunities
Classroom Activities
For more STEM activities and ideas for home or classroom, visit our page, Tulane STEM at Home Presented by Capital One.
Beginning in Fall 2020, the National Air & Space Museum is offering unique opportunities for you and your students to engage with the Museum's content online- providing opportunities to spark student interest and elaborate upon classroom content. Each reservable experience is standards-aligned and provides a suite of materials surrounding the content area aimed at engaging students through:
content deep-dives ready for instructional use;
hands-on experiences that include adaptations for completion at home;
artifact immersions that connect our collection to your content;
and virtual games and activities that extend the content for your students.
View more of the National Air & Space Museum at their YouTube Channel.
---
Energize Your Future with Shell is committed to inspire and prepare today's students for potential STEM related careers. With investments in strategic programs and online resources for teachers and students, Shell believes that these 21st century learning opportunities can build the technical talent pipeline for tomorrow's workforce.
Shell wants to help students prepare for real opportunities in tomorrow's workforce by educating them about career options and inspiring them to study science, math and technology. Most importantly, Shell supports teachers with resources to enhance student learning.
---
Louisiana Art & Science Museum has launched Art & Science at Home, an online resource for educators, schoolchildren, and parents that includes art and science activities, videos, and more, organized by grade level! The hope is this resource can help educate and entertain you with at home art and science activities during this time and beyond. Also check out LASM 360 to tour and discover the museum virtually!
---
Computational thinking is about learning to solve problems, whether with or without a computer. This resource has several creative activities to inspire computational thinking and guide students through computing curriculum fundamentals without having tons of screen time. 
---
The project models collected here are considered integrated units emphasizing Technology, Engineering, and Mathematics of STEM and also present strong supplementary academic assignments and activities in relation to CTE in the fields of:
Engineering Design
Engineering Technology
CAD
Programming
---
Articles, activities, and strategies to engage your students in engineering while teaching from home.
---
hand2mind is excited to introduce teach@home: Daily Lessons & Activities for K-5 students, a series of free daily lessons and activities created and delivered by teachers. Each week you will find an easy-to-follow schedule, by grade, for K-5 students and daily grade-specific video lessons for Math and Literacy. You will also find worksheets for the Math and Literacy lessons as well as a daily Specials activity.
---
Keep Louisiana Beautiful has created K-5 environmental education lesson plans and activities that focus on litter, pollution, recycling, and environmental stewardship to protect our watershed and the Gulf. These resources are available for download, complete with lesson plans, activity sheets, and student standards for both formal and non-formal educators (parents, troop leaders, etc.). 
---
Kinetic City: Mission to Vearth is the after-school standards-based science program in which kids complete activities in conjunction with a dynamic website. The Kinetic City Super Crew needs your kids' help to save their virtual world of Vearth from the science-distorting computer virus, Deep Delete. The more kids play, the more standards-based science content they learn!
---
NASA Principles of Flight: Kite Building
---
An innovative, affordable, and "scrappy" way to learn about electrical circuits!
---
COVID-19! How Can I Protect Myself and Others - Curriculum Guide
COVID-19! How Can I Protect Myself and Others? will help you, and your community, understand the science of the virus that causes COVID-19 and other viruses like it. It will help you to figure out how this virus is impacting or affecting you or may impact you in the future. It will help you to understand the actions that you can take to keep yourself and your community safe. Download the guide here.
The Smithsonian Science Education Center has developed the following STEM resources to support "Distance Learning" needs for students in grades K-8. This siteis designed for everyone—students, teachers, and caregivers. It includes standards-aligned educational games, simulations, videos, eBooks, and hands-on lessons that require simple materials found at home. Some resources require technology. Others can be printed out and used in low-tech environments. This multi-modal approach is designed to support equity and access learning goals.
---
As schools transition to remote learning, Texas Instruments is offering all teachers and students free, six-month software licenses for the following:
TI-SmartView CE emulator software of the TI-84 Plus graphing family
TI-SmartView for MathPrint calculators (TI-30XS/TI-34-Multiview scientific calculators) 
TI-Nspire CX and TI-Nspire CX CAS Student Software
TI-Nspire CX Premium Teacher Software 
---
A weather-focused science and math platform where teachers can develop research and scientific investigation of the weather and climate
Events
---
Teachers of 3rd through 8th grade students are invited to participate in Tulane's online teacher professional development this October and November!! Thanks to the generosity of Shell and The Joe W. and Dorothy Dorsett Brown Foundation, we are offering two 2-day virtual professional development workshops: October 10th and 17th | November 7th and 14th. 
Each workshop will include two 2-hour live sessions (9:00-11:00 am) and 2 hours of on-your-own-time independent work during the week in between.
Participating teachers will receive a $125 stipend upon completion of the PD. Teachers must participate in all parts of the workshop to be eligible for the stipend! Space is limited and preference is given to teachers from majority free or reduced lunch schools and teachers already in the classroom.
The October workshop is titled: Blending Engineering in a Virtual Environment
Register here: https://applyprecollege.tulane.edu/register/teacher_pd_october_2020 
---
Join the Center for K-12 STEM Education for bi-monthly, virtual resource sharing opportunities for local STEM teachers.
First STEMingle is Wednesday, September 23rd, 4:30-5:30 PM! Register here now!
1st Wednesday of the Month: Preparing for the GNO Science and Engineering Fair
3rd Wednesday of the Month: Open Resource Sharing 
Time: 4:30-5:30
Registration: https://applyprecollege.tulane.edu/register/STEMingle 
---
Upcoming Webinar by the U.S. Department of Energy, NASA, and The U.S. State Department: The (STEM) Future is Female: Strategies & Actions - May 19 at 1:00 PM CST. 
Register for the SXSW EDU virtual session now, on May 19, 1:00 PM CST, to learn about ways to engage girls in STEM (and STEAM). On the virtual session, you'll hear from Rita Baranwal, Assistant Secretary, Office of Nuclear Energy, U.S. Department of Energy; Lisa Guerra, Office of the Administrator, NASA and Sabrina Abu-Hamdeh, Office of Global Partnerships, U.S. Department of State, in a conversation moderated by Melinda Higgins, Nuclear Energy Tribal STEM Advisor, U.S. Department of Energy, and you can ask questions on Twitter using #STEMFutureIsFemale.
 
This webinar will be unpacking what the Energy Department is doing to engage girls in STEM, how the State Department engages girls in STEAM globally through public-private partnerships, and how NASA's broad STEM outreach opportunities can be tailored to support girls in STEM to become the future women leading the way in STEM discoveries, policies, and careers. This session be a great discussion from female leaders in STEM and will be a great resource for teachers and parents alike! 
Register for SXSW EDU Virtual Session here!
---
Regeneron International Science and Engineering Fair is going Virtual for 2020!
The Society for Science & the Public and Regeneron have announced the Virtual Regeneron International Science and Engineering Fair, which will take place Monday, May 18 through Friday, May 22. It is free and open to the public. ISEF 2020 will have virtual rooms for each project category featuring videos about projects submitted by participating finalists. Virtual ISEF schedule can be viewed here.
 
The Regeneron International Science and Engineering Fair (ISEF) is the international fair to which our 4 top GNOSEF senior division projects advance, providing an all-expense paid opportunity for 4 GNO area students and 2 teachers to attend. Due to the unique circumstances surrounding the Coronavirus this year, the event was cancelled and moved to a virtual platform, allowing for anyone with an interest in science and engineering to "go to ISEF", albeit virtually. If you choose to register, our GNOSEF fair ID is USLA08. Keep an eye out for our 4 GNOSEF finalists listed with their project numbers below! 
| | | |
| --- | --- | --- |
| Fair ID | Finalist | Project Code |
| USLA08 | Perkins, Kaitlyn | BMED052 |
| USLA08 | Pizzolato, Rachel | ENBM017 |
| USLA08 | Barron, Grayson | ENMC019 |
| USLA08 | Guggenheim, Collin | MATH009 |
Register here for Virtual ISEF with Fair ID USLA08
---
If you do not have a PBS LearningMedia account, sign up now!
LPB will be hosting two informational webinars on how to navigate and use PBS LearningMedia on May 7th or June 4th at 10AM CT. Sign up today and learn how easy it is to search for quality lessons and fun activities that your students will enjoy!
---
NASA's Next Generation STEM Resources are Ready for LAUNCH happening THIS WEDNESDAY, May 6, 2020 at 6:00 PM CT.
NSTA's Professional Learning Division and NASA's Next Generation STEM Team invite you to learn about the NASA Office of STEM Engagement's new Commercial Crew Program Launch Kit. Explore how these STEM investigations use science and engineering practices to engage students in applying science ideas to solve problems through the engineering design process. We'll discuss strategies to integrate these real-world applications into your standards-based curriculum units. This free web seminar will take place on May 6 at 6:00 PM CT.
---
Science is Cool is hosting a FREE virtual "Unconference" for teachers THIS THURSDAY, April 2, 2020 from 11:30AM-7:00PM CT.