Welcome to Tulane University's seventh annual Engineering Capstone Design Expo. This is an opportunity to view and acknowledge capstone projects and academic achievements of students in Biomedical Engineering, Chemical and Biomolecular Engineering, Engineering Physics, and Computer Science.
This year's expo took place at the Qatar Ballroom and Kendal Cram Room in LBC on Tuesday, April 25 from 9 AM - 12 PM.
The EXPO opened at 9:00AM by SSE Dean, Professor Kimberly Foster, and was followed by a viewing of the presentations and interactions with the students. 
2023 Design Expo Award Winners
Best Project Awards – Faculty and Industry Representatives Vote
Biomedical Engineering:
SurgJoy
Team: Bolden Charles, Katie Russell, Ryan Henney-Herron, Elana Kraversky, Griffin Foster
Pontius Pluralities
Team: Sarah Littell, Anna LeJeune, Ethan Hernandez, Elle Sullivan
Chemical and Biomolecular Engineering
A Cryogenic Purification Process for a Desorbed Captured Carbon Dioxide Stream
Team: Matthew Geis, Andrew Kese, Arul Walther, Katherine Higgins
Computer Science  
Skin Disease Diagnosis on Darker Skin Tones
Team: Reagan Esteves, Jamie Hartman, Charles Tyndal, and Chenyu Zhao
Physics and Physics Engineering
SAE Aero Competition
Team: Ben Vasquez, Keelan Collins, Liam Fielding, Adam Grintz, Jack Walvoord
Audience Favorite – Audience Vote
Biomedical Engineering:
TumorVision
Team: Maddie Clerkin, Keefer Boone, Meagan Kelly, Swathi Katakam
Chemical and Biomolecular Engineering
Decolorization Using Sugarcane Bagasse Biochar
Team: Trevor Cary, Zachary Chulik, Anjana Ganapathy, Taylor Silvey
Computer Science  
Beating Blackjack
Team: Jake Johnson, Kelsey Peltz
Easy Emergency Contraceptive Automation
Team: Iris Brook, Madeline Nelis, Emily Powers
Physics and Physics Engineering
NASA RASC-AL
Team: Olivia Riess, Josh Coltrin, Stephen Graf, Eliza Gregory, Bethwel Tum
Musical Robots
Team: Jackson Smith, Lilli Fowler, Logan Wingerter, Olivia Zorrilla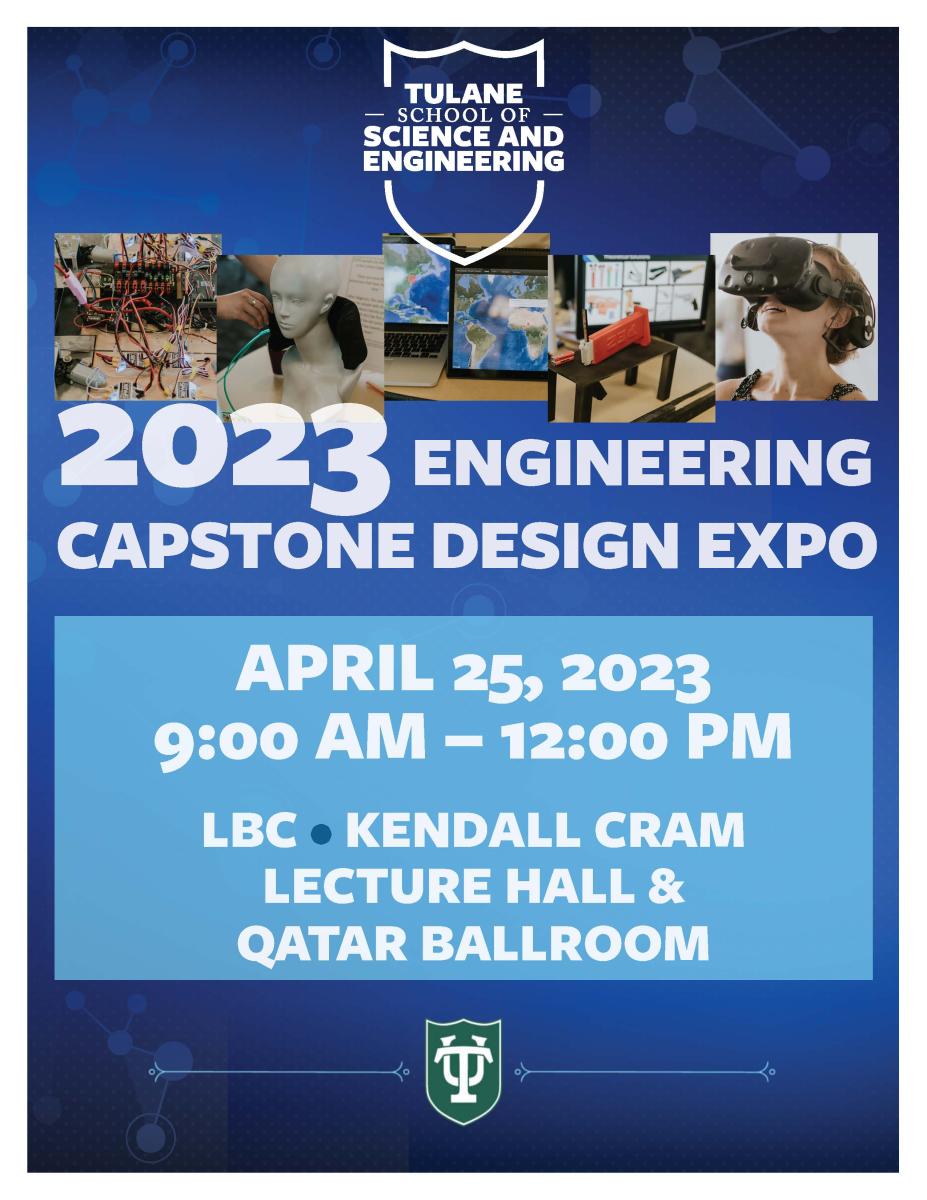 Watch our 2022 Capstone Design Expo video below!