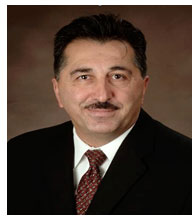 Amir Shahkarami leads and is responsible for all domestic and international business development and execution.
Professional History
Amir is the founder, President, and CEO of CASe Global Partners, Inc. since October 1, 2014. Under his leadership, CASe provides complex financial and technical mathematical modeling, computer analysis, and consultation in energy and engineering. Amir is a mentor for and teaches at the WNA World Nuclear University and serves on their advisory committee. Amir has been teaching at MIT INLEP. He is a member of the Southern Company Safety Review Board (NSRB).
Shahkarami has nearly 34 years of experience in the nuclear industry (Licensing, Design, Construction, and Operations) including 14 years with Exelon. He retired from Exelon on October 1, 2014 when he was the CEO of Exelon Nuclear Partners responsible for all domestic and international business development and Senior VP of Exelon Generation. Previously he was Exelon Nuclear Senior Vice President of Technical Services, in which he was responsible for nuclear fuels, engineering, project management, license renewal, industry organizations, innovation and Exelon Nuclear international exchange program. He held other executive position as Site Vice President of Braidwood Nuclear Station where in this role he was responsible for all aspects of safe nuclear plant operations. Prior to Braidwood, he served as Exelon Nuclear Vice President of Engineering, where he was the company's chief engineer responsible to provide governance and oversight to Exelon nuclear fleet.
Prior to joining Exelon, Amir held several key management positions of increasing responsibility at Entergy at several nuclear sites and corporate for ten years. He also spent three years with Detroit Edison and five years with Sargent & Lundy designing and constructing nuclear power plants. Amir spent his first three years post college with Brown & Root, designing and constructing offshore oil platforms in the Gulf of Mexico and North Sea.
Amir is and has served on Exelon, Southern Company, and PSEG Nuclear Safety Review Boards.
Industry Leadership
Amir has served as the executive chairman of both the BWR and PWR Owners Groups; the Executive Committees of PMMP and BWRVIP; the EPRI NPC and its Executive Committee. He was on the Board of Directors for WNA, NEI NPOC Steering and Suppliers Advisory Committees.
Amir has been a member of the ANS since 1992 and has served on its Board of Directors. He has been the General Chair of ANS ICAPP, Nuclear Fuel, and Utility Working Conference and the annual ANS meetings.
Amir has also greatly contributed to the INPO principle of engineering and the technical conscience document. Amir has been peer and industry advisor of several INPO and WANO plant and corporate evaluations. He has led the resolution of several complex industry issues such as the establishment of a predictable regulatory path toward installation of digital I&C, Alloy 600 pressurizer nozzles cracking, and containment sump blockage (GSI 191).
Amir has served on the Tulane University, Texas A&M, and Illinois Institute of Technology Engineering Advisory Boards. He also served as the Will County Center of Economic Development and Chamber of Commerce, as well as Society of Hispanic Professional Society board of directors.
Awards
Amir was the recipient of the 2008 Chicago United Leadership, 2009 ANS Utility Leadership, and the 2010 WANO Excellence awards. He has received three NEI Top Industry Awards.
Education
Amir received his Bachelor's and Master's degrees in engineering fields from Tulane University; his Master's in Business Administration from Mississippi College and completed his PhD studies in nuclear engineering at Louisiana State University. He is a graduate of the Advanced Management Program at the Harvard University Graduate School of Business. Amir has a Senior Reactor Operator (SRO) certificate, and completed the Institute of Nuclear Power Operations' Senior Nuclear Plant Manager and the executive courses. Amir has taught several courses in the areas of Risk Management, Nuclear Safety and Organizational aspect of the nuclear operation at Massachusetts Institute of Technology.
Family
Amir is married to Cindy and lives in Acworth, Georgia, USA. They have two sons Sean (26) and Eric (24).