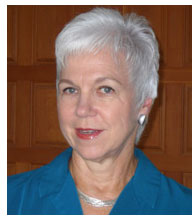 As an independent consultant, Dr. Donna J. Dean focuses on career enhancement and mentoring strategies for individuals and organizations and on analysis of federal science and technology policy for organizations. Prior to her current activities, she was Senior Science Advisor for five years with Lewis-Burke Associates LLC, a Washington D.C. based government relations consulting firm that advocates for the public policy interests of institutions of higher education and other research and education organizations. She has 27 years experience as a senior Federal government executive in research and science policy across the entire range of biomedical related areas at the National Institutes of Health (NIH) and the Food and Drug Administration. In 2004, Dr. Dean was Senior Scholar in Residence at the National Academy of Engineering of the National Academies and Senior Advisor for Engineering to the NIH Director, focusing on policies and projects at the interface of engineering and the health and life sciences. She was designated the founding/acting Director of the new National Institute of Biomedical Imaging and Bioengineering at NIH in 2001.
Dr. Dean attended Berea College in Kentucky, graduating with a B.A. in chemistry, and minors in biology and mathematics, and then received the Ph.D. in biochemistry from Duke University. After postdoctoral work in cell and developmental biology at Princeton University, she conducted research in biochemical endocrinology at NIH prior to moving into science administration. In 2000, she completed a senior management program in the John F. Kennedy School of Government at Harvard University.
She has been a pivotal leader on scientific and technical workforce issues, in women's health, and in career development strategies for young scientists. She recently authored a book, "Getting the Most out of Your Mentoring Relationships: A Handbook for Women in Stem" (Springer 2009). Among her current professional activities are the Committee on Science, Engineering, and Public Policy of the American Association for the Advancement of Science (AAAS), national Board of the Association for Women in Science (2007-2008 national President), advisor to the joint biomedical engineering program of the University of North Carolina/North Carolina State University, and Board member of the Washington Academy of Sciences and of the School of Science and Engineering of Tulane University. She is a fellow of the AAAS, the Washington Academy of Sciences, the American Institute for Medical and Biological Engineering, and the Association for Women in Science. In November 2007, she received the Distinguished Alumnus of the Year award from Berea College.