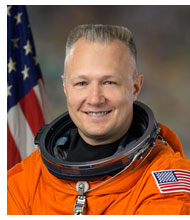 Colonel Douglas G. Hurley, USMC, is a NASA astronaut, test pilot, and fighter pilot with a military career that spans over 24 years. He currently holds the position of Assistant Director for New Programs at the Johnson Space Center in Houston, Texas. Previously, he was the pilot on two space shuttle missions to the International Space Station. He flew on STS-127 in July, 2009 and then flew again in July, 2011 on STS-135, the last flight of America's Space Shuttle Program.
A native of Apalachin, NY, Hurley graduated Magna Cum Laude with Honors from Tulane University with a BSE in Civil Engineering in May, 1988. At the same time, he received his commission as a Second Lieutenant in the United States Marine Corps from the Naval Reserve Officer Training Corps at Tulane. He was designated a Naval Aviator in August, 1991 after two years of flight training. Upon completion of initial F/A-18 training, he was assigned to Marine All Weather Fighter/Attack Squadron 225 in the summer of 1992, where he made three overseas deployments to the Western Pacific. Over his 4 1/2 years with the "Vikings," he served as the Aviation Safety Officer and the Pilot Training Officer. Hurley was then selected to attend the United States Naval Test Pilot School at Naval Air Station Patuxent River, Maryland. After graduation in December 1997, he was assigned to the Naval Strike Aircraft Test Squadron (VX-23) as an F/A-18 Project Officer and Test Pilot. He was serving as the Operations Officer when selected as a pilot for the astronaut program in July 2000. Following the completion of 2 years of training and evaluation, he was assigned numerous technical duties within the Astronaut Office. He most recently served as the NASA Director of Operations at the Gagarin Cosmonaut Training Center (GCTC) in Star City, Russia and as the Astronaut Safety Chief before holding his current position. Hurley has logged over 4,500 hours in more than 25 aircraft.
He is married to NASA astronaut Karen Nyberg and they have one son.