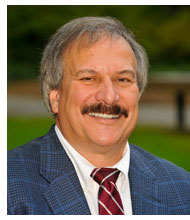 Mr. Orth has a long history with Tulane University, since his mother, himself, and his daughter graduated from the University. In 1973, he graduated from Tulane University with a Bachelor of Science degree in Mechanical Engineering. After graduating Mr. Orth accepted a position with Texaco as Operations Engineer. In 1977, he joined Brock Exploration Corporation to become the Canadian Operations Manager. He held this position until 1981 when he began what would be a long-time career with the Louisiana Land and Exploration Company (LL&E). Headquartered in New Orleans, LL&E operated a crude oil refinery near Mobile, Alabama, and conducted exploration and production operations in the United States and select foreign countries. Mr. Orth was instrumental in developing production in the North Sea and world-wide.
He began his tenure at LL&E in various engineering and finance positions before becoming Engineering Manager of the company's Europe, Africa, and Middle East Division in London, England. Mr. Orth was then promoted to Vice-President of the Rocky Mountain Division in Denver, Colorado, where he was instrumental in the development of Wyoming's Madden Field, one of the largest natural gas fields in the continental U.S. In 1996, he became Vice-President of World Wide Operations and Production.
Following the 1998 merger of LL&E and Burlington Resources, Mr. Orth co-founded Energy Partners Ltd., a privately-held, New Orleans-based oil and gas company. In 2001, the company was taken public via an initial public offering (IPO) on the New York Stock Exchange. A year after the IPO of Energy Partners, Jim and Tulane Alum Luis Banos co-founded ORX Resources, Inc. ORX is a leading technology driven sub-salt exploration company headquartered in and committed to New Orleans. Jim serves as Director, President, and Chief Operating Officer of this privately held company.
Mr. Orth has always been active in the Tulane and New Orleans community. Jim is the President Elect of the School of Science and Engineering Board of Advisors and a member of the Board of the Tulane Engineering Forum. His daughter graduated Cum Laude from the first "official" graduating class of the School of Science and Engineering with a degree in Ecology and Evolutionary Biology. Jim is a multi-generational New Orleanian with ancestry dating to the eighteenth century Spanish colonial period. He and his company are active supporters of local civic endeavors including Audubon Institute and the Parks and Parkways Commission. ORX is also a major sponsor of the annual Tulane Engineering Forum.