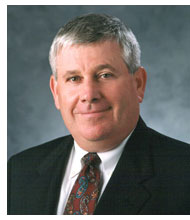 John R. McGaha formed jMc Associates, LLC after retiring from Entergy, Inc. in December, 2009.
John R. McGaha became president of Entergy Nuclear South in March 2000. Entergy Corporation, through its Entergy Nuclear South subsidiary, operates five nuclear units in its retail electric service area: two-units at Arkansas Nuclear One and single units at Grand Gulf Nuclear Station, River Bend Station and Waterford 3. Since 2005 in his final assignments with Entergy he lead two major nuclear and corporate-wide change initiatives. Since December 2009 he has worked as a consultant to the nuclear industry and as a board member for a privately owned nuclear service company.
McGaha has been an active participant in nuclear industry initiatives that contribute to continuous improvement and excellence. He served in multiple current and past roles on executive committees and advisory councils for the Nuclear Energy Institute, the Institute of Nuclear Power Operations and the American Nuclear Society; and since 2001 as a member of the Tulane University School of Science and Engineering Board of Advisors.
McGaha has 32 years of experience with Entergy's nuclear program. He started his Entergy career in 1978 at the Waterford 3 plant in Taft, Louisiana, advancing to the position of general manager of plant operations.
McGaha was promoted to vice president of operations support for Entergy Nuclear South in 1991, coordinating support services for all the nuclear units at the company's nuclear headquarters in Jackson, Mississippi Concurrent with Entergy's December 1993 merger with Gulf States Utilities, McGaha was named vice president of River Bend Station in St. Francisville, Louisiana, where performance in most industry indicators was lagging. Under McGaha's leadership, the plant was integrated into Entergy Nuclear South, and major improvement plans were developed and implemented that set the plant on an impressive improving trend.
McGaha was promoted in September 1998 to executive vice president and chief operating officer of Entergy Nuclear South, followed by the assignments previously highlighted until his retirement in 2009.
Before joining Entergy, McGaha was an electrical design engineer for Brown & Root, Inc. for three years, and he served in the U.S. Navy nuclear submarine program for five years. In 1994, he retired from the U.S. Naval Reserve with the rank of captain.
McGaha is a graduate of Tulane University in New Orleans with a bachelor of science degree in electrical engineering. He has completed the Harvard University Advanced Management Program; is a registered professional engineer; and received a senior reactor operator management certification at Waterford 3.