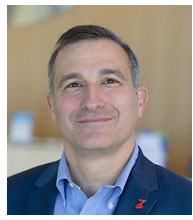 John Paolini is currently Chief Medical Officer at Kiniksa Therapeutics. His over 25 years of experience spans from basic biological/medical science through all phases of clinical development and regulatory strategy for small molecules and biologics. Dr. Paolini was most recently Vice President, Clinical Research Head of the Cardiovascular and Metabolic Diseases Research Unit at Pfizer, Inc, where he was responsible for bringing forward programs in diabetes, heart failure, lipids, and metabolic liver disease from the preclinical space through early clinical development and proof of concept. Dr. Paolini previously served as Chief Medical Officer of Cerenis Therapeutics in France, where he was responsible for designing and executing clinical trials and regulatory strategy for a portfolio of products relating to HDL and Reverse Lipid Transport, leading up to two European Union Orphan Designations and an Initial Public Offering on the Euronext. Before moving to France, Dr. Paolini was Global Clinical Leader at Bayer HealthCare Pharma, where he was responsible for Phase III and the NDA filing through launch for Xarelto (rivaroxaban) in atrial fibrillation as well as Life Cycle Management. He started in the Pharmaceutical industry at Merck & Co., Inc., in Cardiovascular Clinical Research and Clinical Pharmacology, leading projects in thrombosis and dyslipidemia that spanned the early and late stage portfolio, including Zocor and Aggrastat, the Vytorin, Zetia, and Tredaptive NDAs, as well as in-licensing activities in cardiovascular disease.
Dr. Paolini obtained an M.D., Ph.D. (Immunology) from Duke in 1995. He subsequently completed a residency in Internal Medicine and a fellowship in Cardiovascular Medicine at the Brigham and Women's Hospital, including a postdoctoral fellowship at MIT researching the role of inflammatory mediators in cardiovascular disease. He received Board certifications in Internal Medicine and Cardiology and is a Fellow of the American College of Cardiology. He served on the clinical faculty at the University of Pennsylvania as a Clinical Associate and attending physician, precepting cardiology fellows in the HUP outpatient cardiology clinic for a decade. He has authored more than 75 peer-reviewed journal articles and abstracts. He graduated from Tulane University with a Bachelor of Arts, summa cum laude, and a Bachelor of Science, summa cum laude, Phi Beta Kappa, in 1986.
He currently lives in Boston with his wife Eva; they have three children, ages 21, 18, and 14.