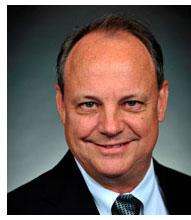 Larry D. Wink, P.E., is the Business Development Manger of Wink Engineering, L.L.C., the largest privately owned engineering firm in the State of Louisiana. Wink Companies, L.L.C. also has full service capability in architecture, surveying and construction management. Larry holds a general contractors license for heavy construction. A graduate of the Tulane University School of Engineering (Class of 1978), Mr. Wink is a licensed professional mechanical and environmental engineer in Louisiana, Florida, Mississippi, Tennessee, Texas, Arizona, and Wisconsin.
Mr. Wink began his career as a refinery engineer at Exxon Oil Refinery in Baton Rouge, LA. In 1982, he joined Wink Engineering as a mechanical design engineer and project engineer. He became president of the corporation in 1990, then CEO in 2000. As President and CEO, Mr. Wink is actively involved in executive management, strategic planning and long range business development as the company has continued to grow and diversify in many markets both domestically and overseas. The company serves a wide range of industrial, commercial, governmental, and institutional businesses, with project sizes that range up to $400 million. He is actively involved in the firm's formulation of the mission and vision which are guiding the growth and development of the closely held, family-owned corporation, which includes strong themes centered on safety, integrity, core values and quality customer service. As we also support communities where we live and work, personal leadership has played a key role in the firm's expansion into international markets, the corporate wide Quality/Continuous Improvement Initiative, and its long-term stability and success.
Mr. Wink's earlier career technical experience includes oil refinery and petrochemical plant facilities design, inspection, project management, and troubleshooting; oil and gas production and pipeline facilities; industrial and municipal infrastructure and other public works facilities, commercial and institutional buildings. Mr. Wink's affiliate companies are emerging into real estate development, project finance and project equity ventures. Mr. Wink is a member of the Young President's Organization, World President's Organization, the Louisiana Engineering Society, the American Society of Mechanical Engineers, and the engineering honorary societies Tau Beta Pi and Pi Tau Sigma. He is active in the Louisiana Chemical Association, the Louisiana Chemical Industry Alliance (LCIA), the National Petrochemical Refiners Association (NPRA), Independent Liquid Terminals Association (ILTA), and other business and industry organizations. He serves on the Board of Directors of Pendleton Memorial Methodist Hospital Foundation and on the Board of Advisors for the Tulane University School of Science and Engineering (three-term president). An avid golfer since high school, Mr. Wink is a member of the Metairie Country Club and University Club of Baton Rouge where he enjoys leisure time on the golf course. He also enjoys fishing, boating and spending time with his wife and three children, with whom he lives in Baton Rouge and New Orleans.