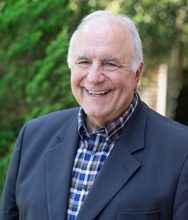 Paul is the Owner, President, and CEO of Woodward Design+Build, LLC, one of the largest design and construction organizations in the Gulf Coast Region. Paul has worked in the construction industry since 1968. In 1970, Paul joined Woodward. Prior to his present role, Paul has worked as a Structural Designer, Project Manager and Project Estimator on projects ranging from medical, commercial, institutional, industrial, and multi-family to historic restorations and renovations. Paul became President and CEO of Woodward in 1987. In 2004, Paul formed Woodward Interests, LLC, a real estate development company. He has been responsible for the development of several large commercial projects in New Orleans.
Paul received a Bachelor's Degree in Civil Engineering from the Georgia Institute of Technology in 1968. He received a Master's Degree in Engineering from Tulane University in 1975. Paul was named the 2008 De La Salle High School Alumnus of the Year. In 2010, Paul received the School of Science and Engineering Outstanding Service Alumnus Award from Tulane University.
Paul served on New Orleans Mayor Mitch Landrieu's Sustainable Energy and Environmental Task Force, and was Chair of the Recovery School District's Peer Review of Educational Standards and Performance Specifications for the School Rebuild Master Plan. Paul served as President of the Dean's Advisory Board for Tulane University's School of Science and Engineering. He is Chair of the Business Council of New Orleans and the River Region. He also serves on the board for Louisiana Association of Business and Industry, the President Council of Tulane University, and the Advisory Committee to Georgia Tech's School of Civil and Environmental Engineering.
Paul and his wife Donna have established the "Paul H. and Donna D. Flower Endowed Scholarship Program" at Dillard University. In addition, they have established the "Paul H. and Donna D. Flower Early Career Professorship", an endowed fund to support a research professorship at the Tulane University School of Science and Engineering, and were instrumental in the development of the "Donna and Paul Flower Hall for Research and Innovation". They were inducted into the Paul Tulane Society for their philanthropic efforts.