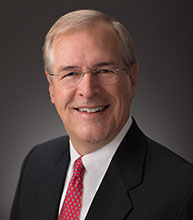 Vice President - Global Exploration (Retired)
Chevron
Robert Ryan has over 42 years of experience in the energy industry and is currently an Independent Director on the Board of Directors of Murphy Oil Corporation, joining the board in 2019.
Prior to his retirement in 2018, Mr. Ryan was Vice President of Global Exploration at Chevron Corpora?on, where he was responsible for the company's multibillion dollar worldwide exploration program for 15 years. He joined the company through Texaco in 1979 as a geologist in the Offshore Division in New Orleans and held a variety of technical and leadership positions in numerous locations during his 39-year career with the company. Key roles included Gulf of Mexico Exploration Manager, Assistant to the Chairman and CEO of Texaco, and Vice President – Indonesia Business Unit and a member of the Board of Commissioners of PT Caltex Pacific Indonesia. As Vice President in the Chairman's Office, he was the Texaco lead on the Upstream Integration Team for the Chevron and Texaco merger where he played a key role in redesigning Chevron's exploration program. At the merger close, he was appointed General Manager – International Exploration. Mr. Ryan was a member of Chevron's Management Commitee for 17 years and the Upstream Leadership Team for 15 years.
Mr. Ryan was selected to participate in the President's Commission on Executive Exchange in The White House. He was appointed to the Office of the Assistant Secretary for Energy Efficiency and Renewable Energy in the U.S. Department of Energy in Washington, D.C., where he worked with electric utility policies and programs related to renewable energy and energy efficiency.
He served in several industry leadership roles including chairman of the Corporate Advisory Board of the American Association of Petroleum Geologists (AAPG) and vice chairman of the Board of Advisors for the Energy & Geoscience Institute at the University of Utah. The School of Science and Engineering at Tulane University recognized Mr. Ryan in 2018 with the Outstanding Alumnus Award. He also received the Distinguished Service Award from AAPG in 2017 and was recognized for his leadership in exploration by Wood Mackenzie with a Lifetime Achievement Award upon his retirement.
A native of New Orleans, Louisiana, Mr. Ryan has BS and MS degrees in geology from Tulane University.