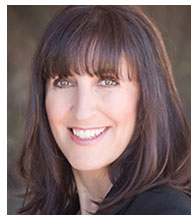 Sabrina Martucci Johnson is a life sciences executive with a record of achievement in capital formation, business development, and commercial leadership. Highlights from her 20+ year career include equity raises, a business development deal sheet comprised of in-license, out-license, and M&A, and executing numerous successful product launches. Sabrina's unique background spans finance, global marketing, product development and bench research.
Sabrina is committed to advancing innovations in women's health. She is the Founder and CEO of DARÉ Bioscience (NASDAQ:DARE), a healthcare company committed to the development and commercialization of innovative products in women's reproductive health. Prior to founding DARÉ, Sabrina was President of WomanCare Global Trading, a global provider of women's health products, and CFO/CAO of the California Institute for Biomedical Research.
Sabrina was formerly a key member of the executive management team at Cypress Bioscience, Inc. (NASDAQ:CYPB) where she most recently served as Chief Operating Officer and Chief Financial Officer. At Cypress she executed mergers, acquisitions, divestitures, strategic partnerships, and capital raises (~$170 million), managed investor relations and commercial organizations, launched 4 products, and oversaw competitive analysis and market opportunity assessment and planning. She was part of the transaction team that negotiated a 160% premium for Cypress shareholders with a deal valued over $250 million. She previously held marketing and sales positions with Advanced Tissue Sciences, where she was responsible for global product positioning for 2 product launches, and spent a year in technical sales at Clonetics Corporation. She began her career in the biotechnology industry as a research scientist with Baxter Healthcare, Hyland Division, working on the recombinant factor VIII program.
In the community Sabrina serves on the board of organizations that advance the economic well-being and health of women and girls and promote education. She serves on the YWCA of San Diego County Board of Directors as immediate past-president, Clearity Foundation Board of Directors, Athena Board of Directors as Co-Chair, Tulane University School of Science & Engineering Board of Advisors, University California San Diego Librarian's Advisory Board, Project Concern International Audit Committee, and Sabrina is the immediate past co-president of Women Give San Diego.
Sabrina has a Master of International Management with honors from the American Graduate School of International Management (Thunderbird); a MSc. in Biochemical Engineering from the University of London, University College London; and a BSc. in Biomedical Engineering from Tulane University, magna cum laude.