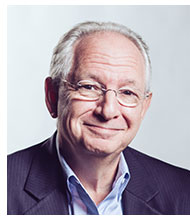 Steven M. Paul, M.D.
Chairman of the Board, President and Chief Executive Officer
Karuna Therapeutics
Dr. Steve Paul is the Chairman of the Board, President and Chief Executive Officer of Karuna Therapeutics. He is an expert in central nervous system (CNS) drug discovery and development. Dr. Paul spent 17 years at Eli Lilly and Company (NYSE: LLY), during which time he held several key leadership roles, including Executive Vice President for Science and Technology and President of the Lilly Research Laboratories. At Lilly he was responsible for the company's overall research and development efforts and helped to oversee the development of CNS drugs such as Zyprexa® and Cymbalta® as well as the development of xanomeline where its antipsychotic and procognitive properties were initially demonstrated. Prior to Lilly, Dr. Paul spent 18 years at the National Institute of Health (NIH) and served as the Scientific Director of the National Institute of Mental Health (NIMH). Dr. Paul is a co-founder and board member of Sage Therapeutics (NASDAQ: SAGE) and a co-founder of Voyager Therapeutics (NASDAQ: VYGR) where he served as President, Chief Executive Officer. Dr. Paul is the former director of the Appel Alzheimer's Disease Research Institute at Weill Cornell Medical College and is currently a Professor of Psychiatry at Washington University of St. Louis School of Medicine.
Dr. Paul has authored or co-authored more than 550 papers and book chapters. He is an elected fellow of the American Association for the Advancement of Science and a member of the National Academy of Medicine (NAM) of the National Academy of Sciences (NAS). He is also an elected Fellow Emeritus of the American College of Neuropsychopharmacology (ACNP) and served as ACNP President (1999). Dr. Paul is the Chairman of the Board of the Foundation for the NIH (FNIH) and previously served on the Science Board of the U.S. Food and Drug Administration (FDA), in addition to serving on many other advisory committees and receiving many awards and honors for his scientific research.
Dr. Paul received his bachelor's degree in Biology and Psychology from Tulane University, and his M.S. and M.D. degrees from the Tulane University School of Medicine.