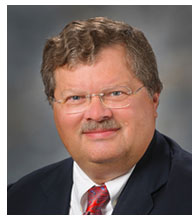 Thomas W. Burke, M.D., served as the Executive Vice President and Physician-in-Chief at The University of Texas MD Anderson Cancer Center, from March 2005 – December 2013, where he was responsible for patient care delivery throughout the hospital, clinics and outreach programs. Under Dr. Burke's leadership, MD Anderson advanced the study of cancer economics, patient safety and quality improvement.
Currently, Dr. Burke serves as the Executive Vice President, MD Anderson Cancer Network. He provides leadership for a team focused on engaging community hospitals and health care systems across the nation and around the world with the goal of improving the quality of cancer care in those communities. He works to ensure MD Anderson-quality care is delivered by our partner, certified and specialty members and by the outpatient centers located in regional communities around Houston.
Dr. Burke is a practicing gynecologic oncology surgeon with a research emphasis in vulvar and endometrial cancers. He continues to be engaged in cancer research, as well as in training the next generation of oncology care providers. His clinical and educational activities have been recognized through national and international presentations. He has written or contributed to chapters for several textbooks and has authored or co-authored more than 180 original medical articles.
Dr. Burke is a member of the Society of Gynecologic Oncologists, the American College of Obstetricians and Gynecologists, the American College of Surgeons, the Felix Rutledge Society, and the American Society of Clinical Oncology. He now serves as a board member of the American Hospital Association.
Dr. Burke received his undergraduate degree in Biology summa cum laude and his medical degree from Tulane University in New Orleans, Louisiana.