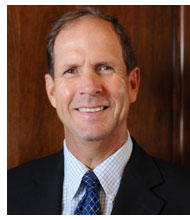 Robert (Bob) Marshall was born and raised in New Orleans, Louisiana and attended Tulane University on a football scholarship where he earned a B.S. in Geology in 1972. During this time he played in the Tulane win of the 1970 Liberty Bowl game, the first Tulane bowl team since 1940. After graduation, he received a M.S. in Geology from University of New Orleans in 1974.
His professional career as a petroleum geologist began with Getty Oil Company in New Orleans and then in Midland, Texas. He also worked as a petroleum geologist for Florida Gas Exploration Company in Midland. After company employment, he began his career as a self-employed independent petroleum geologist in West Texas and New Mexico. He formed and was president of Permian Resources, Inc., and later, Vice President of Stanolind Oil Company. His responsibilities included management of geologic exploration projects, management of company and contract employees in accounting, land, engineering, and dealing with federal and state government regulators. Although these companies were initially small in size, they both sustained significant growth in their oil and gas reserves from an increase activity in acquisitions and drilling new projects. Both companies were later sold to publicly-held companies. He is also an owner of Vista Propane Company, Bruno and Marshall Investments, and Permian Services Co., LLC, a well service company in West Texas.
Mr. Marshall is a licensed as a Certified Petroleum Geologist by the American Association of Petroleum Geologists (AAPG); a licensed and registered Professional Geoscientist of The State of Texas, member of the West Texas Geological Society (WTGS); the Society of Independent Professional Earth Scientists (SIPES); and, the Permian Basin Landman Association (PBLA).
He is married to Janice, also a New Orleans native, and they have 2 children, Robert Marshall and Jessica Ngo.