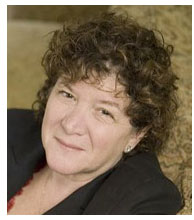 Bobbi Kurshan has joined the University of Pennsylvania's Graduate School of Education (Penn GSE) as Executive Director of Academic Innovation, as was announced today, October 4, 2012 by Dean Andy Porter. In her new role, Kurshan will provide executive level leadership of a series of entrepreneurially focused programs and efforts (such as the Milken-Penn GSE Educational Business Plan Competition), and help develop new degree and non-degree programs.
Dr. Kurshan has had a career as both an academic and award-winning entrepreneur. Kurshan has honed her vision of "what can be" using technology while supporting the growth of new education companies and developing innovative software products. She began her teaching career at Virginia Tech, where she obtained her doctorate, and was the Director of Academic Computing and Assistant Professor of Computer Science at Hollins College for many years. As a professor, she researched the impact of technology on learning and helped her students explore applications of technology across the curricula.
Kurshan then became an education entrepreneur. As President of Educorp Consultants Corporation, she provided strategic consulting and seed funding in the areas of education, technology and innovation; and as the Executive Vice President of WorldSage, a consortium of for-profit higher education institutions in the EU to address education for the 21st century, she identified innovative investments in learning institutions. As the past Executive Director of Curriki she helped to build one of the most innovative and robust global open source education communities. She has previously served as the Co-CEO of Core Learning an education investment fund and the Chief Academic Officer of bigchalk. She currently serves on the Board of several education companies. She developed the first children's software products for Microsoft and also created award-winning products for McGraw-Hill, Apple, CCC (Pearson) and others.
Recent awards include the prestigious WISE Award for Innovation at the World Innovation Summit for Education in Doha Qatar and "20 to Watch" award from NASBE in 2009. In 2008, Kurshan was named Laureate, Tech Awards from Technology Benefiting Humanity. In 2007, she was awarded the UNESCO King Hamad Bin Isa Al-Khalifa Prize. In 2005, she received the ISTE "Making It Happen" award and the Women's Venture Fund's "Highest Leaf Award."
Kurshan earned her B.S. in Mathematics at Newcomb College of Tulane University, her M.S. in Computer Science and her Ed.D in Curriculum and Instruction with a concentration in Educational Technology at Virginia Tech University.
About Penn GSE
Penn GSE is one of the nation's premier research education schools. No other education school enjoys a university environment as supportive of practical knowledge-building as the University of Pennsylvania. Penn GSE has long been known for excellence in qualitative research, language and literacy studies, practitioner inquiry and teacher education. Over the past 15 years, Penn GSE has also developed remarkable strengths in quantitative research, policy studies, evaluation, higher education, and psychology and human development. The School is notably entrepreneurial, launching innovative degree programs for practicing professionals and unique partnerships with local educators, and the first-ever business plan competition devoted exclusively to educational products and programs. For further information about Penn GSE, please visit www.gse.upenn.edu.