Clarence (Clay) Lewis, Jr. retired from ExxonMobil Chemical Company in 2003 after 39 years of service. He held both operations and management positions domestically and abroad.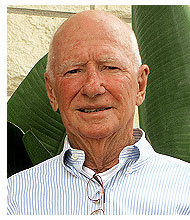 Prior to retirement in 2003, he was the Executive Vice President and Project Executive for the joint venture between ExxonMobil and Al-Jubail Petrochemical Co. (KEMYA) and was responsible for the $1.1B USD project construction, start-up and operation. KEMYA was recognized as the safest and most efficient plant of its type in the world.
From 1993 to 1997 he was the Plant Manager of the Mont Belvieu Plastics Plant in Mont Belvieu, TX. During his tenure at this location the plant received the NPRA award for Outstanding Chemical Plant Safety for three straight years and achieved OSHA VPP STAR recognition.
1988 to 1993 marked Clay's first expatriate experience at Saudi Arabia's Al-Jubail Petrochemical Co. (KEMYA), a joint venture between Exxon Chemical Co. and Saudi Basic Industries Corp. Prior to 1988 he worked at Exxon Chemical Co. in Houston as Polyethylene Operations and Planning Manager responsible for North America and began his career with Exxon at the Baton Rouge Chemical Plant as a process engineer and progressed through several levels in process engineering. In 1972, Clay began his management career while holding positions of increasing responsibility in engineering and operations (product line, business services department, and human resources). Perhaps one of his greatest contributions during his time at Exxon was being the Recruiting Team Captain for Tulane University from 1974–1988.
He is a member of the American Institute of Chemical Engineers and is a Professional Engineer registered with the Louisiana State Board of Registration or Professional Engineers and Land Surveyors. In addition to his service on the Tulane School of Science and Engineering Board of Advisors, he is the chairperson of the Galveston United Way Campaign and the Chambers County Chamber of Commerce. In addition, he is on the Board of Trustees at the International Schools Group in Dhahran, Saudi Arabia and a member of the Board of American Business Association in Dhahran, Saudi Arabia.
Clay received his undergraduate degree in chemical engineering from Tulane University, a M.S. degree in chemical engineering from Clemson University, and an MBA from Louisiana State University. In addition to his years at ExxonMobil, he graduated from Tulane in 1963 as a second lieutenant in the United States Army and eventually rose to the rank of Captain when he was honorably discharged in 1968.