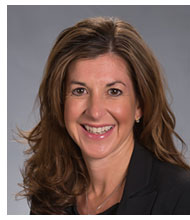 Cristina Carlis is a biotechnology and pharmaceutical executive. She joined Amgen in 2006 and has held various roles in marketing, sales, and commercial operations. In her current role, she is Executive Director, Commercial Operations for Latin America, Canada, Australia and New Zealand. Her responsibilities include maximizing patient access to in-line brands and advancing pipeline assets in the region, across the generic/biosimilars and innovative portfolios. Previous roles at Amgen include Global Commercial Lead in the Nephrology/General Medicine team and Sales Manager for the Nephrology Business Unit in Southern California and Hawaii.
Prior to Amgen, Cristina worked at Pfizer in New York for 12 years. At Pfizer she held commercial roles of increased responsibility in both US and International, culminating with the brand leadership of Lipitor in the US organization.
Cristina holds a Bachelor of Science from Tulane (Newcomb '92) and Masters of Public Health from Columbia University in New York City. Originally from Panama, she lives in Los Angeles, California, with her husband Scott (A&S '91) and two children.