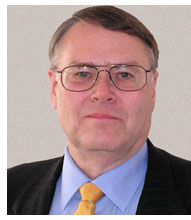 John Gray is Senior Vice President – Policy and Economics for the Association of American Railroads (AAR). He assumed this role in 2008; his responsibilities include the collection, analysis, and presentation of economic data related to railroads and their economic environment as well as development of policy positions on current significant rail issues.
Prior to joining the AAR he worked for Union Pacific where he was responsible for the commercial relationship with other transportation carriers and ports and for strategic policy analysis on issues involving regulatory proposals, legislation, and potential litigation. He also held the positions of Vice President, Business Development and Vice President and General Manager, Industrial Products.
Before working at Union Pacific he was Vice President, Network Development at Southern Pacific Railroad. He has also worked in commercial and strategic positions at Burlington Northern Railroad, ARCO-Alaska and The Alaska Railroad as well as holding a faculty position at the University of Alaska. Prior to that, he held a commission in the U.S. Army and served in Germany for four years.
He holds both Bachelors and Masters degrees in Civil Engineering from Tulane University and did post-graduate work in mathematical modeling of transportation networks and rail cost analysis at Northwestern University. He is a member of the Executive Committee of the Transportation Research Board of the National Academy of Sciences and is a member of the Board of Trustees of the John W. Barringer III National Railroad Library.
He and his wife, Joan, both raised in Alaska, now reside in Bethesda, Maryland.