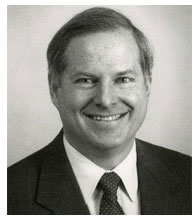 Mr. Mueller attended Tulane University on a football scholarship and was a member of the Green Wave baseball team, lettering in both sports. He graduated from Tulane University in 1971 with a Bachelor of Science degree in Mechanical Engineering. While at Tulane Mr. Mueller was a member of Phi Eta Sigma, Omicron Delta Kappa, and Pi Tau Sigma. He served as the Vice President of the school of engineering and the President of his senior class. He also received the university's T award for his contribution while attending the university. After graduating Mr. Mueller attended the University of Texas Graduate School of Business, receiving his MBA in 1973. While there he was a member of the Southwest Conference Sportsmanship Committee.
In 1973, Mr. Mueller accepted a position with Anderson, Clayton and Co. In 1976 Mr. Mueller was transferred to Sao Paulo, Brazil working there until 1987. At that time he held the position of Managing Director, Anderson, Clayton, S.A. In 1987 Mr. Mueller was transferred to Mexico City, Mexico assuming the position of President and CEO or Anderson, Clayton & Co. S.A. In early 1989 he assumed the position of Chairman and President of Unilever de Mexico. From Mexico, Mr. Mueller moved on to Chicago to become President and CEO of Van den Bergh Foods, Unilever's largest food company. He held this position from 1990 to 1995 when he was transferred to London, England to become Unilever's Deputy director, EAPR (East Asia and Pacific Region). In 1997 Mr. Mueller joined Bunge International in Sao Paulo, Brazil as Senior Vice President of Corporate development until he assumed the position of President and CEO of WestFarm Foods in Seattle, Washington in 1998 He held this position until his retirement in 2004. During his tenure at WestFarm Mr. Mueller was a director and officer of NMPF (National Milk Producers Federation) and Chairman of the Board of Olympic Foods.
Mr. Mueller has always been active in the community, particularly with youth athletic programs. In 1995 he received the Boy Scout's Chicago Area Council "Good Scout Award" for outstanding leadership in helping to build a better American community. Currently, Mr Mueller serves as a judge for the University of Washington Business Plan competition and is active as a mentor for the local EO (Entrepeneurs Organization). In addition, Mr Mueller is a board director of Vipani, an organization dedicated to helping create sustainable economic improvement in the lives of poor farmers in underdeveloped countries. He is also active in the local Boys and Girls club and serves on the board of directors of the Mercer Island Little League.