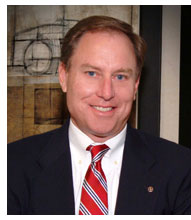 John P. Noel is Vice President, Projects, ExxonMobil Research and Engineering Company. He is located in Spring, Texas where he has global responsibility for managing the Projects Downstream and Chemicals Capital Program.
After receiving a Bachelor of Science degree in chemical engineering from Tulane University, Mr. Noel joined Exxon Chemical Company in 1980 as a process engineer at Exxon's Baytown Chemical Plant.
John has held a number of manufacturing, sales and marketing assignments over his career. In operations, he has held positions as Aromatics plant manager at the Baytown Chemical Plant, site manager of ExxonMobil's Baytown Olefins Plant; Global Safety, Health and Environment manager for ExxonMobil Chemical Company, and America's operations manager. He has also held the positions of Europe Polypropylene business manager and Americas Vistalon marketing manager. Mr. Noel was manager of Global Central Projects, ExxonMobil Chemical Company from 2006 to 2007, and assumed responsibilities as vice president, Engineering and Manufacturing Support in February 2008. In July 2013, Mr. Noel became Vice President of the Projects Department , ExxonMobil Research and Engineering.
John is married to Susan Bartlett Noel, a 1980 Tulane Engineering graduate. John and Susan reside in The Woodlands, Texas and are the proud parents of four boys. He enjoys cycling in his spare time.