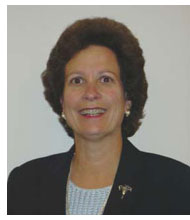 Judith A. Kron, a 1977 graduate from the Tulane University School of Engineering, retired from the DuPont Company in Wilmington, DE in 2014. She was most recently a Corporate business process improvement consultant for Chemicals and Fluoroproducts. Judy began her career with DuPont in 1977 in Nashville, TN after graduating with a Bachelor of Science degree in Chemical Engineering. While attending Tulane, she was elected Secretary-Treasurer of the Engineering Student Council and served on the Honor Board. She was elected President of the student chapter of AIChE, which was awarded outstanding chapter in the Southeast US. She received the Francis M. Taylor Award at graduation.
Judy has held numerous positions in business, marketing, sales, operations, technology and human resources. Her early career was spent in manufacturing technical and operations management for polyester intermediates, titanium dioxide pigments and Freon® fluorochemicals. She continued in Chemicals and Pigments technical service management, followed by New England-Sales based in New Haven, CT and then startup of an environmental groundwater remediation business returning to Wilmington, DE. She moved to Human Resources and became responsible for early career development for a select group of recently hired engineers assigned to Polymer Products. DuPont then requested that she start up a corporate program to attract and retain marketing professionals early in their careers.
Judy returned to the business function in Logistics management followed by Nylon Intermediates business management where she had revenue responsibility for the Americas. Judy commuted to New York City and was responsible for end-use marketing in Nylon Apparel prior to a business development assignment in Intermediates for Kevlar® and Nomex® aramids. She became the US Sales Manager for a portfolio of Specialty Chemical businesses and later was responsible for Sales and Marketing competency development in DuPont Chemical Solutions Enterprise. Judy was appointed Technical Service and Applications Development manager for Teflon® Fluoropolymers and is a certified Six Sigma Black Belt. Judy was named project manager responsible for key elements of a Global Human Resource Outsourcing project. After startup, she managed supply chain and business process improvements in the Packaging & Industrial Polymers businesses and earned an APICS accreditation in supply chain management. She celebrated her 36th year anniversary at DuPont before retiring.
She served in various capacities for the United Way of Delaware in fundraising for the local community and at DuPont. Upon retirement, she returned to New Orleans and lives on the parade route. She enjoys travel, theatre, jazz, piano, the beach and supporting her alma mater, Ursuline Academy. She is currently on the Building and Grounds committees of the Academy and the Shrine of Our Lady of Prompt Succor on State St.