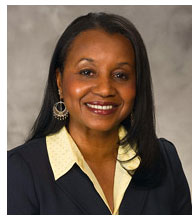 Lisa G. Jeff, P.E. is President and Majority Owner of L'Acquis Consulting Engineers, a consulting firm that specializes in mechanical and electrical engineering design. In 1977, Ms. Jeff obtained her B.S. in Mechanical Engineering from Tulane University. She worked in the petrochemical and consulting industries for eleven years before going into business for herself. Ms. Jeff is a licensed mechanical engineer in several states, and holds certification with the National Council of Examiners for Engineering and Surveying (NCEES).
Ms. Jeff founded L'Acquis Consulting Enterprises, Inc. of New Orleans in 1987, and has operated in Indianapolis since 1997 initially doing engineering work for the State of Indiana, the City of Indianapolis, and J. Beard Management. L'Acquis Consulting Engineers, LLC was established in Indianapolis in February 2003.
Ms. Jeff's role as entrepreneur for L'Acquis Consulting Engineers encompasses many responsibilities including business development, administration and technical oversight. The firm has been involved in the design of projects for many clients including CSO Architects, Lowe's, Purdue University, Indiana University, Ball State University, Duke Realty Corporation, the City of Indianapolis and State of Indiana. She has also been involved in the project management and mechanical design of municipal and commercial buildings, educational facilities for K-12 and higher education, water and waste water treatment facilities, military installations, stadiums and airports. She is experienced in expert testimony and forensic engineering impact studies, as well.
Ms. Jeff is affiliated and a member of many organizations, some which are listed below. Her drive for excellence is what makes L'Acquis Consulting Engineers a thriving firm in their industry.