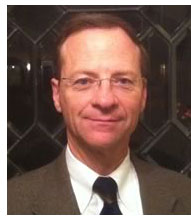 Dr. Warren R. Bourgeois, III is a New Orleans native, having earned his BS ChE From Tulane University in 1978 and his MD from Tulane in 1982. He completed his orthopedic residency through Tulane Medical School at Charity Hospital in New Orleans in 1987. He has been board-certified by the American Board of Orthopedic Surgery since 1989.
Following completion of his residency, he subsequently spent four years serving as an orthopedic surgeon in the US Air Force at US Air Force Medical Center Keesler. He was deployed in support of Operation Desert Storm in 1991.
Following his military service he returned to New Orleans and entered private practice with his current affiliation, Audubon Orthopedics and Sports Medicine. He served as the president of this clinic from 1999 until his retirement in December 2018. In his practice, he specialized in joint replacement and sports medicine. He has been listed as one of the "Top Doctors in New Orleans" in New Orleans Magazine.
Dr. Bourgeois held active staff appointments at Ochsner Baptist Medical Center and East Jefferson General Hospital at the time of his retirement. He has served on numerous hospital committees including Board of Governors and Medical Executive Committees. He has held an appointment to the Jefferson Parish Ethics and Compliance Commission as the Tulane University nominee since 2012.
As a graduate of Jesuit High School in New Orleans he has volunteered services and resources since 1991 including serving as a team physician for 21 years, until 2012. He was named Jesuit High School Alumnus of the Year in 2016.
He is a devoted husband and father and is a proud parent of Tulane alums Jason (L'13) and Camille (M'18). He was named Tulane University School of Science and Engineering Outstanding Service Alumnus of the Year in 2018. 
Dr. Bourgeois has also volunteered his time to the New Orleans Medical Mission Services and has been on numerous medical missions to Central and South America where he specialized in joint replacement surgery.