Jill M. Daniel, Ph.D.
Gary P. Dohanich Professor in Brain Science
School of Science & Engineering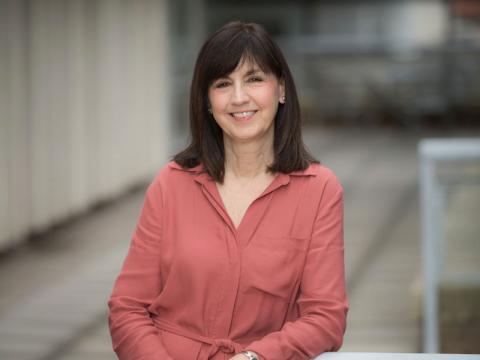 Education & Affiliations
Ph.D., 2000, Tulane University
Biography
The broad goal of Dr. Daniel's research is to understand mechanisms by which estrogens and androgens impact areas of the brain important for cognition. Current work in the lab is focused on the impact of these hormones on the brain and cognition across the lifespan, from early in development during which they help organize mammalian brains as male or female to later in life during which changes in their levels impact the aging brain. Research is conducted in rodent models and experimental approaches used in the lab include behavioral analyses as well as biochemical and molecular assays.
Office
3050 Percival Stern Hall
Selected Publications
Baumgartner, N.E., McQuillen, S.M., Perry, S.F., Miller, S., Maroteaux, M.J., Gibbs, R.B., Daniel, J.M. (2022). History of previous midlife estradiol treatment permanently alters interactions of brain insulin-like growth factor-1 signaling and hippocampal estrogen synthesis to enhance cognitive aging in a rat model of menopause. Journal of Neuroscience,42, 7969-7983. PMCID: PMC9617614 https://pubmed.ncbi.nlm.nih.gov/36261268/
Baumgartner, N.E., Black, K.L., McQuillen, S.M., Daniel, J.M. (2021). Previous estradiol treatment during midlife maintains transcriptional regulation of memory-related proteins by ERα in the hippocampus in a rat model of menopause. Neurobiology of Aging, 105, 365-373. PMCID: PMC8338908 https://pubmed.ncbi.nlm.nih.gov/34198140/
Baumgartner, N.E., Daniel, J.M. (2021). Estrogen receptor α: a critical role in successful female cognitive aging. Invited review in Special Issue, Cognition and Menopause, Climacteric, 24, 333-339. PMCID: PMC8273070 https://pubmed.ncbi.nlm.nih.gov/33522313/
Zimmerman, M.A., Ogola, B.O., Wilkinson, M.M, Visniauskas, B., De Miguel, C., Daniel, J.M., Lindsey, S.H. (2020). Medroxyprogesterone opposes estradiol-induced renal damage in midlife ovariectomized Long Evans rats. Menopause: The Journal of the North American Menopause Society, 27, 12. PMCID: PMC7946153 https://pubmed.ncbi.nlm.nih.gov/33109993/
Darling, J.S., Bayless, D.W., Dartez, L.R., Taylor,J.J., Mehrotra, A., Smith, W.L., Daniel, J.M. (2020). Sex differences in impulsivity in adult rats are mediated by organizational actions of neonatal gonadal hormones and not by hormones acting at puberty or in adulthood. Behavioural Brain Research, 395: 112843. PMCID: PMC7721484 https://pubmed.ncbi.nlm.nih.gov/32755634/
Baumgartner, N.E.*, Grissom, E.M.*, Pollard, K.J., McQuillen, S.M., Daniel, J.M. (2019). *co-first authors. Neuroestrogen-dependent transcriptional activity in the brains of ERE-Luciferase reporter mice following short- and long-term ovariectomy. eNeuro, 6(5) ENEURO.0275-19: 1-11. PMCID: PMC6795557 https://pubmed.ncbi.nlm.nih.gov/31575604/
Pollard, K.J., Daniel, J.M. (2019). Nuclear estrogen receptor activation by insulin-like growth factor-1 in Neuro-2A neuroblastoma cells requires endogenous estrogen synthesis and is mediated by mutually repressive MAPK and PI3K cascades. Molecular and Cellular Endocrinology, 490: 68-79. PMCID: PMC6520186 https://pubmed.ncbi.nlm.nih.gov/30986444/
Darling, J.S., Daniel, J.M. (2019). Pubertal hormones mediate sex differences in levels of myelin basic protein in the orbitofrontal cortex of adult rats. Neuroscience, 406: 487-495. Black, K.L., Baumgartner, N.E., Daniel, J.M. (2018). Lasting impact on memory of midlife exposure to exogenous and endogenous estrogens. Behavioral Neuroscience,132: 547-551. PMCID: PMC6511458 https://pubmed.ncbi.nlm.nih.gov/30926549/
Pollard, K.J., Wartman, H.D., Daniel, J.M. (2018). Previous estradiol treatment in ovariectomized mice provides lasting enhancement of memory and brain estrogen receptor activity.  Hormones and Behavior, 102: 76-84. PMCID: PMC6004337 https://pubmed.ncbi.nlm.nih.gov/29742445/
Black, K. L., Baumgartner, N. E., & Daniel, J. M. (2018). Lasting impact on memory of midlife exposure to exogenous and endogenous estrogens. Behavioral Neuroscience, 132(6):547-551. PMCID: PMC6242721 https://pubmed.ncbi.nlm.nih.gov/30160505/
For a complete listing of publications, see https://scholar.google.com/citations?user=Uujj8JAAAAAJ&hl=en
Courses Taught
Neurobiology of Learning and Memory PSYC-NSCI 4330/6330
Physiological Psychology PSYC 7090