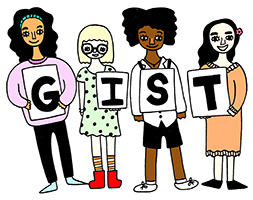 Tulane University's GiST Program provides fifth through seventh grade girls with the opportunity to meet and work with women role models in science, technology, engineering, and mathematics (STEM) fields. Workshops developed and offered by Tulane faculty and Tulane student teams encourage and empower girls to inquire, investigate, and discover in a positive environment. Our goal is to open the doors wide and welcome young students to careers in STEM fields by encouraging creative thinking, promoting self-esteem, and increasing awareness of the opportunities that await them.
*STEM = Science, Technology, Engineering, & Math
Be a Girl in STEM at Tulane!
Do you want to meet women who love science and engineering? Join us for hands-on learning and fun with all kinds of women scientists and engineers at Tulane.
Our Academic Year 2019-2020 events are sponsored by the generosity of Capital One and the Bruce J. Heim Foundation.
Next Event: Saturday, April 18, 2020- Registration for our Spring GiST will open in February!
8:00 am - 3:00 pm
Hosted by Tulane Faculty & Students
Registration for our Spring event on April 18 will open in February. Participants will visit three different labs where they will do workshops in STEM fields. Lunch (pizza), snacks, and a t-shirt** will be provided.  If your child does not eat pizza, please send a bag lunch.
Cost $10. Please do not mail checks or forms until contacted by email.  There are NO REFUNDS.
Participants with complete applications including payment and forms will be accepted on a first come/first serve basis. After the registration has been received, you will get an email asking you to mail in your payment and forms ahead of time to secure your participant's spot. After the payment and forms have been received, you will get another email with an official acceptance and more details about our Spring GiST. There are NO REFUNDS.  Thank you for your understanding and cooperation.
Please see our Groups page if you want more details on how to bring a group of girls to GiST.
Are you in 8th-12th grade? Be a GiST LEADER!
Have you ever had a great time at GiST? Would you like to come help us out with the next one? If you are in 8th-12th grade, like STEM (science, technology, engineering, and math) and would like to get more involved with GiST, we'd love to have you apply for our leaders program! You could be an assistant group leader or work with our professors and students in running one of your favorite workshops. You must be available from 9:00 am-3:00 pm on April 18.
The leadership application will open in February! Applications will remain open until April 1, 2020 or when space is no longer available.
**We do our best to accommodate requests for specific t-shirt sizes, but we cannot guarantee that everyone will get their first choice of sizes.
Please email k12stem@tulane.edu with questions or for more information. Need information on our Boys At Tulane in STEM (BATS) program?  Please go to bats.tulane.edu.