Carrie L. Wyland, Ph.D.
Senior Professor of Practice
School of Science & Engineering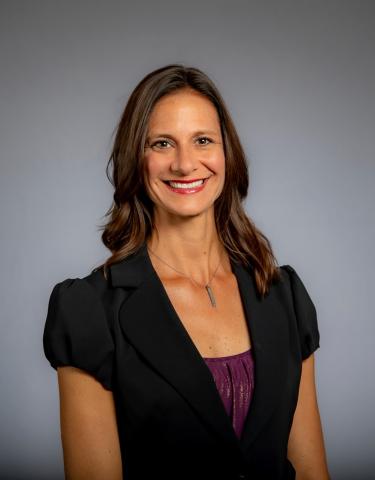 Education & Affiliations
Ph.D., 2004, Dartmouth College
Biography
Dr. Wyland is a social psychologist with expertise in research on self-related processes including self-regulation, self-esteem, and the role of the self in perspective-taking. She is also interested in interventions for wellbeing and positive psychology.
Office
3038 Percival Stern Hall
Selected Publications
Wyland, C.L. & Forgas, J.P. (2010).  Here's looking at you kid: Mood effects on processing eye gaze as a heuristic cue.  Social Cognition, 28, 133-144.
Wyland, C.L. & Forgas, J.P. (2007). On bad mood and white bears: The effects of mood state on ability to suppress unwanted thoughts. Cognition and Emotion, 21, 1513-1524.
Heatherton, T. F., Wyland, C.L., Macrae, C. N., Demos, K. E., Denny, B. T., & Kelley, W. M. (2006). Medial prefrontal activity differentiates self from close others. Social Cognitive and Affective Neuroscience, 1, 18-25.
Moran, J.M., Macrae, C.N., Heatherton, T.F., Wyland, C.L. & Kelley W.M. (2006) Neuroanatomical evidence for distinct cognitive and affective components of the self. Journal of Cognitive Neuroscience, 18, 1586-1594.
Forgas, J.P. & Wyland, C.L. (2005). Affective intelligence: Understanding the role of affect in everyday social behavior. In: J. Ciarrochi, J.P. Forgas & J.D. Mayer (Eds.) Emotional intelligence in everyday life. (pp.77-99). new York: Psychology Press.
Wyland, C. L., Kelley, W. M., Macrae, C.N., Gordon, H.L., & Heatherton, T. F. (2003). The neural correlates of thought suppression. Neuropsychologia, 41, 1863-1867.
Heatherton, T., F., & Wyland, C. L. (2003). Why do people have self-esteem? Psychological Inquiry, 14, 38-41.
Courses Taught
Experimental Psychology: PSYC 3130
Social Psychology: PSYC 3430
Positive Psychology: PSYC 3450
Exploring Psychology (TSSP summer course): PSYC 1100